Attendance
Please click here for a short video regarding our focus on punctuality.
Attendance
At Denefield we believe that attendance and attainment are strongly linked. We want all of our students to attend school regularly and on time so that they can become resilient and confident learners who are able to achieve their potential and make a positive contribution to society.
We expect all of our students to attend school regularly and on time, and we set all students a minimum attendance target of 96%. The school regularly reviews each student's attendance and engages West Berkshire's Education Welfare Service where attendance is below 92%.
Fixed Penalty Fines will be issued when students have missed 20 half day sessions from school within a ten-week school period, where the absences are unauthorised. The level of fine is the same as that imposed by West Berkshire local authority for holidays.
The attendance ladder below details how a student's percentage attendance links to the amount of school days missed. Students will see this displayed in their tutor rooms to highlight the importance of attending school. If a student of compulsory school age is absent, every half day absence has to be classified by school as either authorised or unauthorised depending on the nature of the absence. We require information about the cause of the absence every day a student is off to be sent to us by 8.00am using one of the methods below.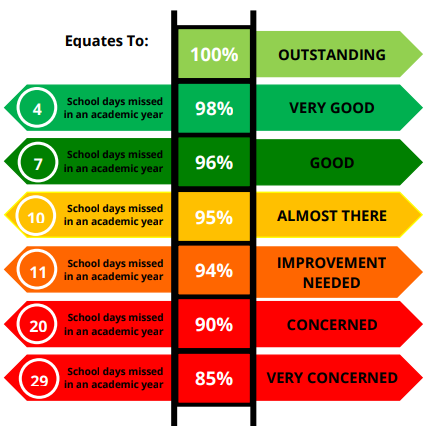 If your child is absent from school, please remember to notify the school on each day of their absence by sending a message via the free school app (make sure the message has sent before closing the App), or replying to your latest school text communication, or by calling 0844 239 3376 (local rate number) and following the automated prompts until they finish. Parents/carers are reminded that dental and medical appointments should, wherever possible, be made out of school hours.
It is not our policy to authorise term time holidays. Following changes to the law a number of local schools, including Denefield, have implemented the use of Fixed Penalty Notices in relation to unauthorised absences during term time. West Berkshire's Code of Conduct for issuing Penalty Notices in respect of unauthorised absence from school allows for the issue of a fine where a student is absent for five school days or more. If you wish to request term time holiday you should contact the Attendance Manager, Mrs G Fox, at absence@denefield.org.uk to request an application form, at least four weeks in advance of the proposed absence.
Punctuality
In addition to the close monitoring of attendance, the rigorous focus on students' punctuality continues to result in significant improvements.
Unfortunately, a minority of students arrive late to school without a good reason. It is important that all parents/carers are aware of the direct implications late arrival has on learning and a student's attendance percentage.
Students who arrive late, between 8.31am and 8.45am, will receive a same-day detention of 30 minutes. Parents/carers are notified via Satchel:one and email. If a student arrives later than 8.45am they will receive a same-day 60 minute detention. Any student who arrives after 9.00am is marked on the register as a 'U'. This counts as an unauthorised absence for the morning session as registers have closed, therefore impacting on their overall percentage attendance for the academic year as well as their studies. Parents/carers should inform the school if there are exceptional circumstances that caused their child's late arrival.
Equally, students are expected to arrive to lessons on time. Students who are late to three or more lessons in a week will sit an hour's detention after school on a Friday. Where there is a persistent problem with getting to lessons on time, further consequences will be put in place.
The Attendance and Punctuality Policy can be found on the policies page of our website.