ALevel and BTEC results 2023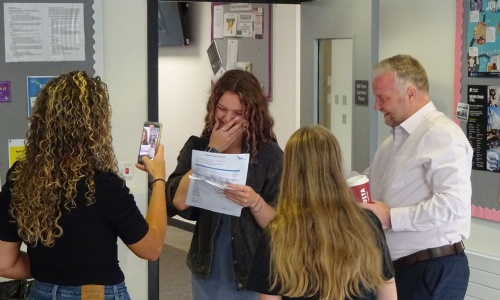 We would like to congratulate all Denefield's Year 13 students on their excellent A Level and BTEC results.
Given all the challenges they have faced in their education, they should be very proud of all they have achieved. As a cohort that did not take external GCSE examinations, these students have worked incredibly hard from the first day of Year 12 and deserve every success. Four students achieved AAA or higher in their A Levels, which is a fantastic achievement.
Level 3 course results for our A Level and BTEC students this year
23.0% A* - A
41.4% A* - B
71.2% A* - C
92.2% A*- D
98.4% A* - E
With such strong results, Denefield students will now progress to a variety of destinations. Over 84% of students have confirmed university places at their first choice university, including several at Russell Group universities. They will take places on courses from Law to Drama to Midwifery. Others have secured prestigious apprenticeships including at Mercedes Benz, and one student is heading into the armed forces. Many Denefield students are also heading into the world of work in ambitious roles, including roles at the air ambulance service.
Denefield Sixth Form's top achievers this year are:
Rachael Corker (A*AA) will read Psychology
Harriet Jackman (A*AA) will read Law
Glenn May (A*AAB) will read Theatre and Performance Studies
Kyra Marshall (AAA) will read Business and Management
Kate Ribbons (AAB) will read Psychology
Priya Anderson (Dist*AB) will read Forensic Psychology
Daisy Welford (Dist*Dist*C) will take up an apprenticeship
Poppy Thomas (ABB) will read Film and Screen Studies
Niamh Duggan (ABB) will read Psychology
Lola Rogan (ABDist) will read Sociology
Our top achievers continuing their studies will attend the following universities: Bristol, Warwick, Reading, Sussex, Portsmouth, Brighton and Swansea.
Congratulations to all in Year 13!