Christmas Concert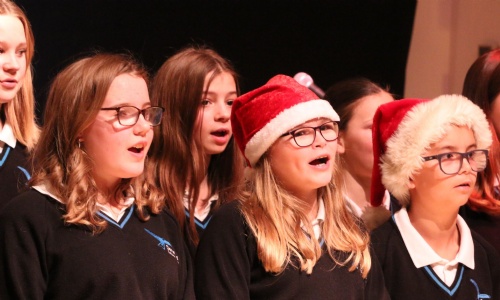 Denefield students set a festive note at the annual Christmas Concert.
There was a wide range of musical styles on offer and all age-groups were represented, making this a truly special occasion.
The tone was set from the start as Mollie sang the aptly entitled It's beginning to look a lot like Christmas. Thereafter, we heard some excellent solos - notably Judith's Meditation by Massenet and Evie's In the Bleak Midwinter – duets, such as Daisy and Joseph's O Holy Night and trios, including Abi, Fleur and Cery's own arrangement of Last Christmas.
More lively pieces included the Wind Ensemble's jazzy versions of Jingle Bells and We wish you a Merry Christmas, and the Year 8 Band's alternative version of Jingle Bells. The Ukulele Group charmed us with their performance of Silent Night, while the Year 10 GCSE group presented a stylish interpretation of Wonderful Christmastime. The choir, too, were busy, singing two numbers from The Lion King and giving a rousing end to the evening with Elton John/Ed Sheeran's Merry Christmas and Shakin' Stephen's Merry Christmas Everyone. Very well done to all!