Denefield Bake-Off, October 2022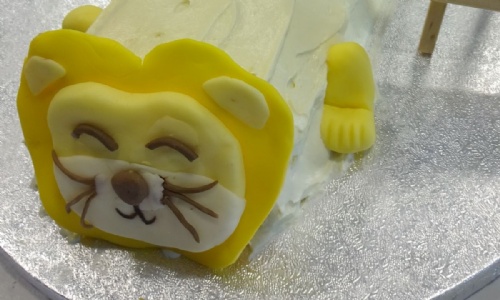 Another year, another Great Denefield Bake-Off, and this year we had some tough competition.
We had 12 finalists from Years 7 to 11 competing for the title and prize of an inspirational cook book to help them continue their culinary journey.
Students were given two hours to bake and decorate a Swiss Roll which needed to represent what their tutor house was all about. Inside the Swiss Roll the students were expected to include a jam or curd that would complement the flavours of their sponge and decoration.
The judges had a difficult decision to make as all cakes had merits such as a beautiful fluffy sponge or intricate designs with delicately pipped buttercream decoration or delicious flavours that worked in harmony with each other.
After much deliberation and consideration, it was decided that the winner was Elsie, in Year 11, for her depiction of the Langley lion, with a lemon curd filling and white chocolate outside. In joint second place we had our previous Bake-Off winner Lucy and Isabelle, both producing their own take on the Sulham castle and including delicious blueberry flavours.
We would like to thank all the participants in this year's Bake-Off and congratulate them on all the creativity and hard work, and we hope to see you all entering next year's competition.