Greenpower - Goodwood, Sunday 9 October 2022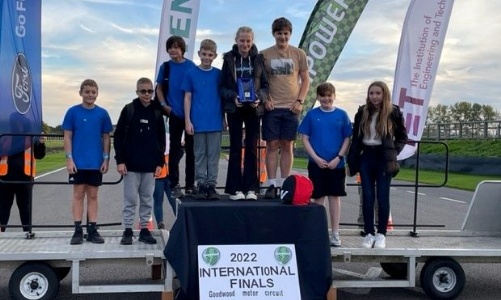 Sunday 9 October saw the international final of the Greenpower racing circuit, where teams travelled from as far away as Brazil, to compete in the competition. With both of our cars making the final all students involved were really excited to race.
In race one, both cars had problems with car 2 failing to make it off the start line due to electrical issues. These were soon fixed and the car was back out on the track.
Car 1 was then involved in a crash in the first lap that nearly ended their racing for the day, as they were hit from behind and one back wheel was completely destroyed. Fortunately, a very generous benefactor helped to replace the wheels and the students in car 1 worked together to get the car back on the track.
Unfortunately, due to these bad starts the cars came in 35th for car 2 and 40th for car 1 out of 45.
All students got together at the start of race 2 and presented well as a team. They walked the track in style, with matching uniforms and even fancy dress in the form of a blow up dinosaur. In Race 2 both cars fared better as there were no mechanical faults or collisions. There was still a lot of competition this meant that car 2 came 28th and car 2 came 31st.
This team had worked so hard during the race, faced many challenges and showed many of the CHARACTER values of the team. Special mention to Jack R for helping both teams and to Oliver S for always staying positive.
Their hard work was rewarded at the end, as Denefield racing car 1 won the Spirit of Greenpower Award for dedication and resilience when facing problems on the day.
We would like to thank our volunteers Mrs Herbage, Mr Hayton, Mr Dixon, Miss Pullen-Clarke, Mr Hawkins, Mr and Mrs Spokes and finally Mr Wallbank for all his help throughout the season.
Another mention needs to go to any of the companies that have donated over the last few months. Craven motor club, Waylands, Dixon Heating and Plumbing Limited, Tilehurst Loft Conversions and GS Property Developments.